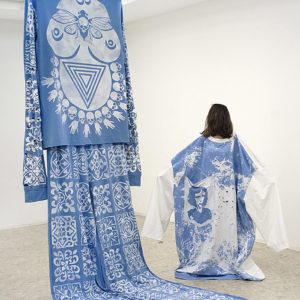 'Do Pajamas Dream of Each Other?'

Art installation, 2017. Aka Gallery, Vladivostok.
This textile installation consists of giant pajamas with hand-bleached stencil prints on them. I did them as a symbol of unity between male and female foundations lying in the beginning of the universe.
The
"Male" part is brutal and f
orthright, when the "Female" part is more decorated, subtle, delicate, and symbolizes not only birth and maternity but also decay and death.